Missing Dog Found At Park With Old Man: 'He Knew Where He Was Needed'
A touching video of a dog found befriending an elderly member of the community has gone viral on TikTok, where it amassed a million views at the time of this writing.
The clip shared from the TikTok account @blue.loyalaf was overlaid with a message that read: "I couldn't find my dog at the park. This is where I found him [teary-eyed emoji]."
The footage showed a dog sitting at the feet of an elderly man on a park bench, who can be seen stroking and petting the animal.
The video was shared with a caption that said: "Blue [the dog] always finds people who need a little extra love [blue heart emoji] #dog #puppy #rescue #puppylove #adopt #mutt."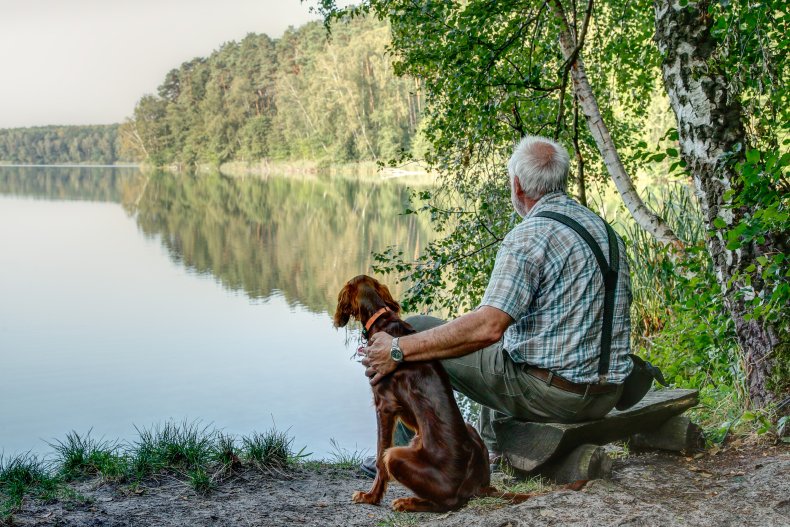 Several studies have found dogs and other pets could provide health benefits for elderly people.
The findings of a March 2021 study published in the peer-reviewed journal Animals showed that "pets, particularly dogs, can play a role in increasing opportunities for engaging in physical and social activities and providing emotional support and thereby reducing a sense of social isolation and loneliness and improving psychological health among older adults."
A June 2021 study in the peer-reviewed journal Frontiers in Veterinary Science stated: "Pets can make us feel needed and valued. Older adults having contact with dogs reported reduced levels of loneliness and improved mental functioning."
The study also said older adults with dementia showed "significant decreases in agitated behavior and increases in social interaction when a pet visited," while pet ownership was associated with "less depression following spousal bereavement."
The latest video has melted the hearts of several TikTok users.
In a comment that got 4,025 likes, Suki the Kyoshi warrior wrote: "[T]hey always know how to find the right people [heart-shaped eyes emoji]."
In a comment that received over 780 likes, Katrina De Vries923 said: "He knew where he was needed. the man needed some puppy time." Beth M agreed, saying: "He know that man needed love today."
In a comment that got 2,236 likes, Tay said: "Blue would be the perfect therapy dog to visit hospitals and retirement homes."
Myra Anne said: "[T]his is the cutest thing I've ever seen." Andrea wrote: "Look at both of their smiles [floating hearts smiley face emoji]."
Newsweek has contacted the original poster for comment.