On A Minnesota Lake, A 'Super Mom' Was Spotted With 56 Ducklings In Tow
Brent Cizek, a wildlife photographer, decided to go photographing in the north Minnesota lakes. He hoped to get some close-up shots of animals in their natural habitat. Brent, on the other hand, had no idea how close he'd become.
"Well, it wasn't the best idea," Cizek told MNN, "because it was quite windy that day and the waves were tossing my boat around in any direction it wanted to. I decided to keep going despite the fact that I wasn't likely to see anything, let alone be able to take a photograph in the choppy water."
He steers his tiny boat along the shoreline after a ride on the lake. He noticed what appeared to be a slew of people the next moment. When he got closer, he noticed a mother duck and a few ducklings. The only difference is that the few became a few dozen.
"As I got closer, my heart began to race because I had never seen anything like this before," the photographer explained. "As I approached, the group decided to start swimming back out into the lake, and 'Mama Merganser' took the lead, pulling the chicks behind her. I knew this was going to be a once-in-a-lifetime photo opportunity, so I fired off as many shots as I could, hoping that at least one of them would turn out."
A whopping 56 ducklings were trailing the super duck mama. He explains, "I found one image that was in focus and that I just loved. I knew it would do well on social media, so I immediately posted it. And it wasn't long before his photo went viral on social media."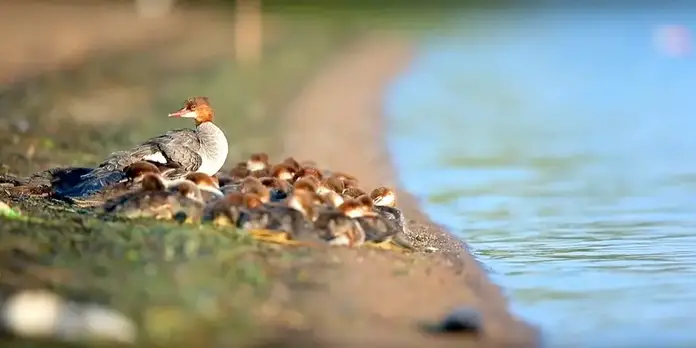 However, a thorough look revealed that there were even more. "I was able to count 76 babies with her," he said, implying that she had picked up more babies along the way. It's been incredible. When they continue their migration, it will be a sad day."
It was most likely a mixed family, not just a single brood. Regardless, this duck is undoubtedly the mother of the year!