Vanessa Lachey makes promise to NCIS fans following dramatic crossover episode
Since the NCIS crossover event aired on CBS, Vanessa Lachey and the rest of the cast have been inundated with praise, especially after it was announced that the episodes had smashed viewership records. Taking to Instagram on Friday, the actress – who stars as  Special Agent Jane Tennant on NCIS: Hawai'i – revealed just how busy she'd been this week, after receiving a huge amount of fan mail from viewers.
Posting a photo from her office, Vanessa's desk was covered with endless letters, and she's spent a great deal of time responding to each and every one of them. At the bottom of her Instagram story, she wrote: "Mahalo for ALL your letters! I am getting through them!! Promise!!!"
Spotted alongside the piles of fan mail were several photos of Vanessa in character as Special Agent Jane, which she made sure to sign individually – so sweet.
Since joining the cast of NCIS: Hawai'i in 2021, Vanessa has become a fan favourite, and she's also made history by becoming the first female lead of an NCIS franchise. Discovering the news ahead of the crossover event, Vanessa couldn't help but get emotional while appearing on The Talk.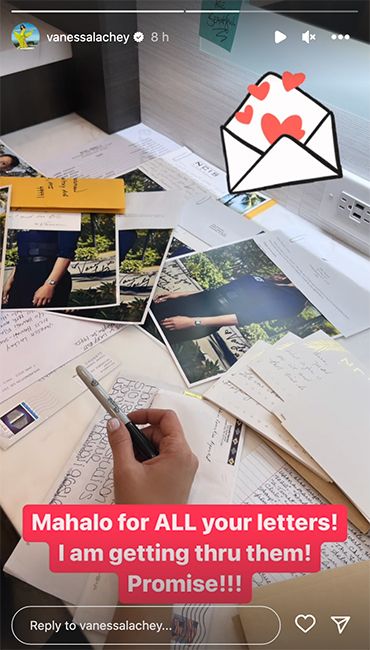 NCIS star Vanessa Lachey has received piles of fan mail since the crossover event premiered
"I love that I get to be the one to be the first female lead. So, a massive thank you to CBS studios and CBS networks," she said.
In between filming for NCIS: Hawai'i, Vanessa resides with her husband, Nick Lachey, and their three children in Oahu. Just two weeks into filming the hit show, the family decided to pack up and sell their LA abode, and Vanessa's never looked back.

Vanessa resides in Oahu, Hawaii, with her husband Nick and their three children
"This is the most beautiful place I've ever been emotionally," she said of her new home. "There's a magic. When you live here and are surrounded by the loving people…you can't help but feel it and get moved by it."